Early Birds Breakfast Club is Back!
At St Michael's we offer our very own Breakfast Club that provides a safe, nurturing and friendly environment for children who need to have an early start! Our qualified staff will provide generous care and plan stimulating activities for children to choose from.
The children will also be encouraged to get stuck in and help keeping the environment tidy.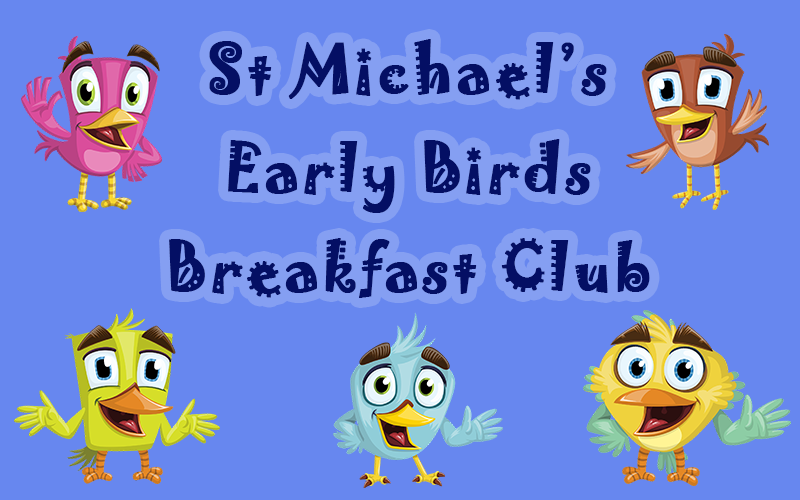 Please be reminded that all children understand that St Michael's School's behaviour policy applies in Breakfast Club.
Opening Times
Monday to Friday 7.45 am – 8.30 am and is located in the Infant Building and can be entered by the Infant Gate. At the end of Breakfast Club children will be taken to class by a member of staff.

If you wish your child to attend the cost is 50p per child.  This must be booked and paid in advance on the online booking system via the Parent app
Have a healthy breakfast
As a healthy school children will be offered a healthy breakfast to ensure they have a great start to the day. There is a variety of cereal, toast, juice and water on offer. Our selection of food offers a healthy balance and includes:
– Toast or bagel with butter, jam, cheese spread
– Choice of cereals (not containing sugar)
– Fruit juice, water or milk
On special occasions/events, the School may offer alternatives from the above menu.
Resources: Early Birds Breakfast Club
Just click a button below to View any document, you will then have the option to Download or Print the file. You can access all of our policies and reports on the website. Please contact the school if you would like any paper versions of our documents.