Attendance and Punctuality at St Michael's
Do you want your child to be successful in school?
Do you want your child to achieve the best academic standards they are capable of?
Do you want your child to excel in sport, art, music, dance and technology?
If the answer is YES to all 3 questions.
You need to ensure your child has excellent school attendance.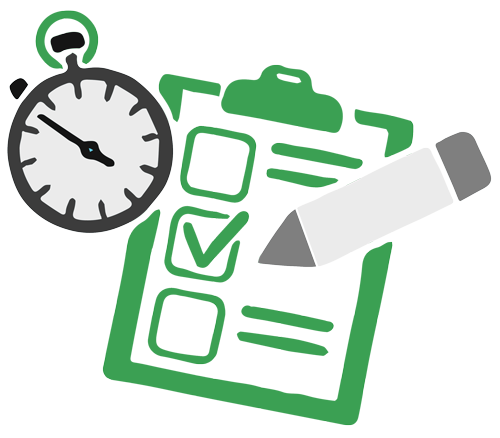 School Attendance Matters!
Most children have good attendance and the school wants to celebrate that with them. We also want to encourage everyone to achieve high levels of attendance. As a parent, you should try to ensure that your child attends school every day and you have a duty to ensure a good level of attendance.
A national research Department for Education report in March 2016 found a strong evidence based link between attendance and attainment in schools. Every extra day missed was associated with lower attainment outcome.
Attendance matters because St Michael's School cares about the children.
Please ensure you child is in school so they can achieve their potential.
The school will continue to give school attendance and punctuality a 100% focus.
If you need support with attendance please contact Mrs Chiocchi or Mrs Birch at school.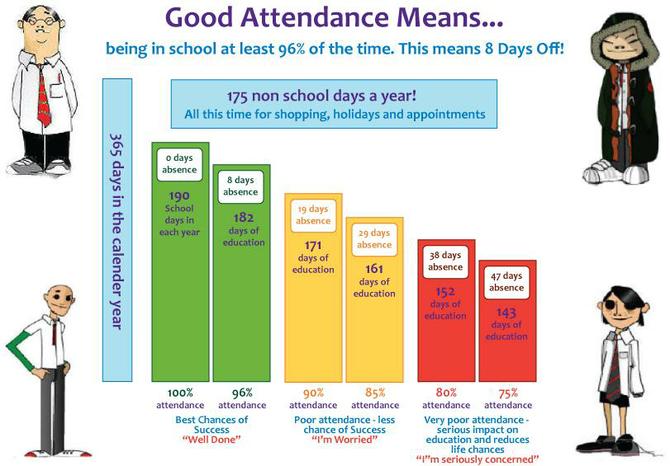 Important Information
Schools are now not allowed to authorise any term time holidays or leave of absence unless there are exceptional circumstances (this is a government decision, not the Headteacher's decision).
Any unauthorised term-time leave of absence of 10 sessions or more in any 12 week period may result in a Penalty Notice being issued – one per parent per child. (Unauthorised absence includes both, 'O' and 'G' register codings) Please note, a session is the equivalent of a morning or an afternoon so a day in school is two whole sessions.
Without appropriate medical evidence, days off due to illness will not be authorised. It is important that children are not absent from school simply because of 'ordinary' coughs, colds, headaches or tummy ache. The school can always contact you later in the day if your child is feeling unwell in school.
The attendance for children who are not yet of compulsory school age (Nursery & Reception) is as important as the attendance of other children attending our school as it is really important that you get your children into good habits of attendance and punctuality early on in their school lives. The first years in education are particularly important for children's learning and development and time missed from school in these years is very difficult to make up for when they are older.
Home Visits
Two members of staff will visit the home if we have no notice why a child is absent and we have been unable to contact a named adult. The aim is to establish why your child is absent from school and to check on the well being of the family.
Please Note:
If we are unable to make contact and we have concerns about a child's welfare we will consider contacting social services and the police.
Persistent Absentee
If your child's attendance falls below 90%, they will be classed as a persistent absentee. You will firstly be sent a letter regarding your child's attendance, if their attendance still does not improve you will then be invited for a discussion with the school's attendance officer, Mrs Chiocchi and Mr Burcher to discuss reasons for your child's absence and ways in which their attendance can be improved.
Please Note:
If attendance still does not improve, you will be invited to a further meeting with the local authority's educational welfare officer (EWO) and continued persistent absence may well lead to the issue of a fixed penalty notice.
Lateness
When pupils arrive late, they miss out on essential instructions given at the beginning of the lesson. This can significantly reduce achievement, regardless of academic ability. Children may also feel awkward arriving to the classroom when everyone else is settled. Furthermore, when one pupil arrives late, it disrupts the entire class and the teacher. therefore, everyone's education is compromised.
Lessons in Reception classes, Key Stage 1 and 2 start at 8.50am at St Michael's Primary School. Teachers arrive in the playground at 8.40am and take their class into school at around 8.45am so that pupils are in class and ready to be registered for 8.50am. Therefore, any child who arrives in class after 8.50am may well be registered as Late ('L' code in the register).
Once teachers have completed the Register, the Register is closed and any child who arrives late after the Register is closed will be registered as late.The only way to ensure that your child is not marked as late in the register is for them to be in their class line for when the teacher arrives to collect their class at 8.40am.
In the Nursery, sessions start at 8.45am for the morning group and at 12.15pm for the afternoon group. You should bring your child straight into the classroom at these times so they can be registered straightaway. It is really important that Nursery children are brought to school on time.
Please Note:
If your child arrives late on several occasions, you will be asked to attend a meeting with the school's attendance officer, Mrs Chiocchi to explain the reasons for your child's lateness. The school will work with you in finding solutions if there are genuine difficulties. However, if lateness persists, you will be invited to a further meeting with the local authority's educational welfare officer (EWO) and the persistent lateness may well lead to the issue of a fixed penalty notice. Please arrive at school every day.
Resources: Attendance & Punctuality
Just click a button below to View any document, you will then have the option to Download or Print the file. You can access all of our policies and reports on the website. Please contact the school if you would like any paper versions of our documents.