Our Core Values
St Michael's Catholic Primary School Community follows Jesus by living, loving, learning and working together.
Joy and Happiness:
Celebrating the gifts, skills and talents of all in our school community.
Friendship and Nurture:
High expectations for all in learning and behaviour.
Tolerance and Respect:
Relationships based on equality, trust and sincerity.
Peace and Forgiveness:
Always being willing to say sorry and rebuild a broken relationship.
Diversity and Equality:
Treat everyone the same.
Aspire and Courage:
Personal drive and passion inspiring all.
Integrity and Honesty:
Decisions and actions based on Christian values – 'Doing the right thing'.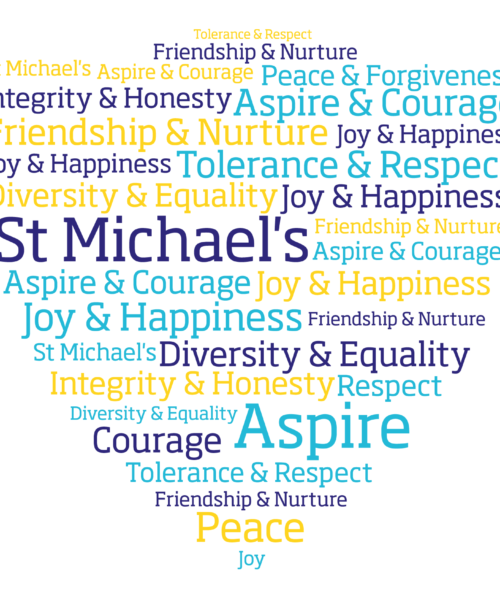 Give yourself a new learning challenge every day.
Try as hard as you can.
Embrace the school's annual "Aspire and Achieve" week.
Ask Questions and answer Questions
Believe in yourself and stick at things.
Encourage others.
Set yourself a goal.
Never give up- I can do it!
Wear your school uniform with pride.
Allow yourself to dream about what you want to be as an adult.
Be brave – take a risk with your learning.
Reach for the stars.
Always work hard, however difficult it may seen.
Be in school every day to achieve your goals.
Show comfort and encouragement to others.
Speak out when you know something is wrong.
Be respectful to other faiths
Treat everyone the same
Work together as one school family
Help new children to settle into school and feel part of school family
Celebrate all faith important occasions
Listen and value all opinions
Actively learn and listen about other faiths and cultures
Experience food from around the world
Learn key phases in other languages eg: Hello!' and 'Happy Birthday'.
Enjoy and participate in 'Picnic around the World'.
Embrace and celebrate our differences & similarities.
All clubs are equal for boys and girls
Join in extra-curricular activities
Be caring to others
Share and smile
Enjoy the friendship benches and use them to make new friends
Celebrate birthdays
Be a buddy for new children to help settle them into school.
Respect yourself and others
Be an honest friend
Remember your manners when speaking to people
Listen to others if they are upset or worried
Providing an inclusive caring, safe and supportive environment
Older children are good example to others EG Fantastic Walking
No one is left out – include everyone
Play buddies making sure that children aren't left alone during play time
Be willing to take turns
Do not blame others if not their fault –don't just side with your friends
Know what is right and what is wrong
Be truthful with your friends
Be truthful about things you find hard in class-ask for help
Listen to and follow your conscience
Always tell the truth and be honest.
Speak out if something is wrong
Tell a member of staff about someone doing something wrong, even if it is your friend
Be tolerant
Own up if you have made a mistake or wrong choice
Tell a member of staff if someone hurts or upsets you
Be aware of other people's feelings if you disagree with them
Be willing to share a smile with all you meet
Enjoy sharing your talents at sports day, in choir, reading events and lots more
Applaud children who achieve special certificates –praise others
Family fun nights for all of the school community
Use all talents in all areas of school life to achieve your best results
Talk to teachers when unhappy about something however small worry is.
Weekly celebration assemblies and joyful singing
Give people a friendly greeting e.g. good morning
Cheer on and support others
And remember Birthdays
Encourage parents to share their opinions on school life
Calm and orderly classrooms – stop signal etc;
Children learning in a peaceful and calm environment –including a calm corner
Show you are sorry by changing your actions and words
Be willing to say sorry and forgive others
Be a good role model for making peace – help anyone who is sad or lost
Be willing to share stuff with other children, any problems or concerns
Accept an apology
Be willing to listen to the views and opinions of others
Every day start fresh
Be patient & give people time
Try to be a peacemaker with friends everyday.
Show empathy to others
Don't leave any children out of games
Play buddies helping to sort out arguments and disagreements with pupils
Sacrament of Reconciliation
Reflect upon the Catholic values in our society and use this knowledge to make good choices in life
Actively find out about different cultures, faiths and races
Recognise and celebrate achievement and success of all members of the school community
Respect your own things and things that belong to the school and others
Embracing British values
Follow school rule – 'Be Respectful!'
Say "no" to bullying
Giving all children the opportunity to share their family's traditions
Treat people how you would like to be treated –be kind!
Listen to other people and value their opinions
Show good manners – say please & thank you
Value the different faiths, cultures and languages in our school-celebrate that we all look different and come from different places
School Resources
Just click a button below to View any document, you will then have the option to Download or Print the file. You can access all of our policies and reports on the website. Please contact the school if you would like any paper versions of our documents.